Pocket Earth is the ultimate travel tool –
comprehensive worldwide street maps and travel guides even while you are offline.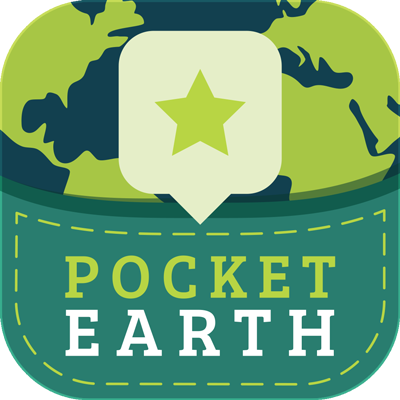 Reviews
#1 Most purchased App in Netherlands App Store – May 16th 2014
#2 Most purchased App in Germany App Store – May 20th 2014
#1 Most purchased Navigation App in Germany App Store – May 20th 2014
#1 Most purchased Navigation App in Switzerland App Store – May 15th 2014
#1 Most purchased Navigation App in France App Store – Dec 4th 2012
#1 Most purchased Navigation App in US App Store – Aug 27th 2012
Pocket Earth has been in the Top 10 Paid Navigation Apps in 91 countries.
"This app is ridiculously awesome!" –user
"Hands down the best OpenStreetMap program available!" –user
"Best offline maps I've ever used." –user
"SUPER! SUPER! SUPER!" –user
"Editor's Pick" Best Offline Map App –www.thedigitaltrekker.com
"The best travel app in the world… Don't leave home without it!" –bonvoyageurs.com
"Very impressive app with unmatched features." –toptenreviews.com
Description
Pocket Earth is the most advanced and feature-rich offline mapping App available. Great for travelers and outdoor enthusiasts! Saves on data roaming costs!
Just select the cities, regions, or even entire counties you want to download, and it will be available for offline use, complete with information on thousands of POIs (Points of Interest), Wikipedia articles and travel guides. To do this we utilize community driven open data, and compress and package it in a format optimized for mobile devices. Our ultra-fast OpenGL ES based MagikEngine uses the same graphics technology as video games to render vector maps in realtime. So unlike other map apps which only download pre-rendered images (map tiles), our maps are only a fraction of the size, and you can better control the appearance of the map with different style sheets and data layers.
Features
Just Great Maps
Detailed, interactive, customizable, and frequently updated worldwide maps, available online and off! More than 100,000 places, completely free! Saves on data roaming costs! True high resolution support for Retina display giving crisp, beautiful maps! The fastest and most beautiful map app on the App Store!
What's Near By
Find out about thousands of interesting places, hotels, restaurants, bars, tourist sites, even metro & bus stops and lines! Ultra-wide search up to 64km in all directions!
Travel Content You Need
Detailed Travel Guides on more than 25,000 places and more than 200,000 Wikipedia articles!
Navigation
Online Routing with driving/cycling/walking directions! Save your routes for offline use! Hands-free GPS Navigation!
Create Your Own
Mark your own locations with Pins, customize their color and icon, take notes, and use them to create routes! Compile your own favorites lists and keep track of your data! Import, Export and Email support for GPX and CSV files! Address Book integration lets you find your Contacts' addresses on the map!
Outdoor
Bicyclist Map inspired by opencyclemap.org! GPS track recording lets you see what route you took! Great for hikes, bike trips, and road trips!
Multi-lingual
Available in English, Spanish, French, German, Dutch, Czech, and Russian! Map text localization and transliteration! Comprehensive built-in Help Manual!
Powerful & Customizable
Displays and lets you search for map coordinates in all common formats (including DD, DDM, DMS, MGRS, UTM/UPS, GeoHash, what3words)! Useful distance measurement tool! Advanced Settings to control your Pocket Earth!
Corporate Identity
GeoMagik LLC was founded by Abe Heckenbach and Kal Conley in Nov 2011 after more than two years of core technology development. We are two ambitious and dedicated Information Technology specialists with a strong background in the industry, but more importantly, we love to travel! After years of traveling and feeling disappointed with existing offline map solutions, we set out to create something radically better. We wanted to create the App that was always missing–a fast, comprehensive, all-in-one travelers tool that works even when you are offline! No more heavy and out of date guidebooks, no more collections of paper maps that get destroyed on the road. Pocket Earth is the realization of that goal.
Technology Background & What Sets Us Apart
All maps start out as a database of raw geographical information (vector data). For example, a street would be defined as a sequence of latitude/longitude coordinates along with its name and other associated metadata. This data is then styled according to a stylesheet and rendered into images that can be presented to the user.
Traditional map apps (and websites) do this rendering in advance on a server, requiring the user to download the map images. But doing this has some serious limitations! Images can take a huge amount of space meaning slow downloads and lots of wasted space on the user's device. They are also static meaning the user cannot customize what is shown and cannot interact with them such as by clicking on POIs.
A more modern approach is to have the map app download only the original geographical information and perform the rendering or map drawing itself! This approach results in significantly smaller downloads, less storage space on the device, and the ability to change the map style and what info is shown on the map.
While there are now several of these vector map apps available, we feel that Pocket Earth has some big advantages over them. We spent over two years developing our core technology, before even starting to develop our Pocket Earth app, and you can really see the difference: Our map data is less than 50% the size of any of our competitors (and at least 5 times smaller than the traditional image based maps). Our maps also display much faster yet are very detailed and of high visual quality. This is only possible because we have taken the time to perfect our proprietary map data format, and to build a high performance and high quality rendering engine using OpenGL ES, the same technology that enables video games!
These things allow Pocket Earth to be the *only* map app that lets the user download entire countries, not just cities or regions. And its not just our technology that sets us apart from our competitors! Pocket Earth is by far the most feature-rich offline map app available, and we provide quick and personal multi-lingual support to all of our users!
Comparison
To give a quick comparison, the maps of Paris would be around 100-150MB with a traditional image based map app. In all of the other vector map apps available its about 60MB. In Pocket Earth it is only 25MB, and yet includes a larger area (suburbs) and all zoom levels. Pocket Earth is the only app that can hide metro stops if you are driving, can show highlighted bicycle routes if you are cycling, hiking routes if you are trekking around on foot, and turn on and off any other specific POI categories.
If you are interested in reviewing our app, please Contact Us for a promo code or additional information. Please specify the website or blog that you represent.